The theme of this year's Od Arts Festival considers being 'alone' (from physical to psychological isolation) 'with everybody' (forms of community).
Alone with Everybody finds the isolated individual adrift upon a teetering market economy and an underfunded and under attack commons.
Sluice asked three of its organisers how the pandemic has affected the upcoming festival.

Vickie We're writing this in mid-April – a month ago we thought there was the real possibility that Od would be going ahead in May and we were starting to share our programme. Right now we can't know whether putting on a festival in September is feasible or foolish. All of the artists in the programme will have been massively impacted and although we're in conversation with them about changes to the festival, we also know they need support, time and space to respond to the unimaginable changes to their lives at home and loss of income. We won't be asking them to make new work from scratch if we can't offer them payment for it but if artists feel their work needs to change we hope we'll have time to explore the options. The biggest change will be the new understanding we all have of isolation and our closer familiarity with the ideas in many of the artists' work. We considered taking some of the work online but it actually feels even more essential to use the festival as a way to bring people back together and to see it as an opportunity to celebrate our communities.

Simon The artists and creative team assembling the festival are the same, but the way we look at it will be different. The first Od explored artistic, romantic and neighbourly frictions, and this edition works with notions of solitude, loneliness and isolation, but we always have the intention to bring people together. But the way we come together will be different. We don't yet know what the residual social effect of the pandemic will be, but I'm certain our relationship to others will have changed. Will we hug when we next meet?

Rowan Though it may be too soon to reconstruct Od differently, I can't help but think the experience of lockdown will have given the art world a massive push towards understanding that we need multiple, different ways of accessing art. The minute the lockdown was announced, I felt an incredible release of anxiety – associated with the obligation to leave the house and partake in complex social situations everyday. It's an underlying anxiety that I'd clearly acclimatised to and I hope, am fairly skilled at masking for short periods. However, now the world has altered to fit this new reality, I am joining more events, more screenings, more conversations, more reading groups, than ever before. My intellectual and social life feels enriched, and not at all diminished. I don't want to suggest this is the same for everyone: we are not all so privileged to be able to stay home, to feel secure in our homes, to have basic subsistence and access to the internet or even, electricity.
But there are lots of people – neurodiverse, chronically-ill, disabled – who have long struggled to leave the house, for whom lockdown may even have offered new opportunities. As well as advocating for art in public space, as artists, organisers and curators, we need to seriously (and playfully) rethink how art can meet people where they are, in their homes, gardens and communal areas.

Simon Personal and collective understandings of solitude have gone through a global renaissance. I think the biggest change to our programme will be in the way that simple gestures take on meaning we could not have foreseen when we put the programme together in 2019.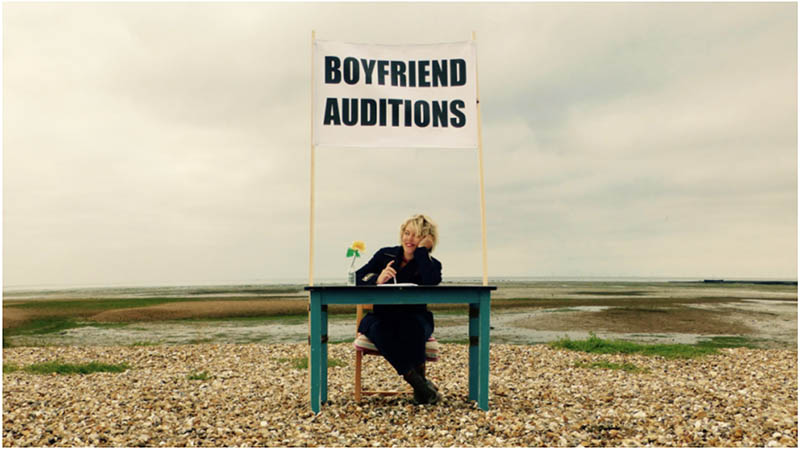 Sadie Hennessy / G.S.O.H.
Vickie Almost all of the works feel like they reference the recent experience of isolation! Zoe Toolan's playlist for And A Vital Connection Is Made (a walk and rave) now feels like a collection of Coronavirus anthems.

Rowan The Walking Reading Group, while quietly radical in creating discussions on the move, seemed a pretty harmless activity. At the moment, the idea of walking closely beside someone you've just met, is pretty transgressive!

Vickie Similarly, A Long Night, our community feast with Fairland Collective couldn't happen during the pandemic; and that title has a whole different resonance after weeks and weeks of quiet nights in.

Rowan Beforehand, I understood Sadie Hennessey's performance artwork G.S.O.H rather ironically, in light of the research that emerged last year, proving that women who are alone without children, are happier, healthier and less lonely than their married and cohabiting counterparts. Despite all the rhetoric, marriage, family, and institutionalised partnerships are no assurance against loneliness and its associated health impacts (at least for women!). The extent to which our social structure so strongly rewards the 'couple-form' – financially and culturally – might well be what exacerbates our loneliness.

Vickie In contrast, G.S.O.H has really shifted for me during lock down: conducting boyfriend auditions is witty and playful but it feels completely different to me now as a single woman living alone and unable to meet potential partners in person. Loneliness is proven to cause high blood pressure, a weakened immune system, depression and Alzheimer's disease so a lack of any physical contact with another human being has felt much more threatening than I had ever really considered before. I can identify much more closely with the air of desperation in that work but I also really appreciate the idea that heartache could be a driver for putting yourself out there.

Simon It feels to me like the choice to be alone can be empowering, when not house-bound, and at least the possibility for physical contact is just beyond the front door. Collective solitude is common in the house I share with my partner and two children. Slipping into a stereotype of screen addiction on our chosen platforms (instagram, youtube, GTA and Fortnite) the grass is greener – especially if you use the right filter. I think our ability to be alone while together may have saved our sanity in this time of social distancing: our choice to move to the countryside 15 years ago brought with it a disconnection and isolation from other artists that led to us setting up OSR Projects in the first place, and it's why we continue to build projects that connect people through artistic practice. The solitude is welcome until loneliness creeps in.

Vickie I have been really struck by the way that people have embraced creativity in their homes during social isolation. Art has been diminishing in our schools but thriving in home-ed timetables so I hope that more people will have rediscovered their love for culture and making and will be excited by an arts festival like Od.

Rowan Maybe people will return to art for different reasons. Perhaps we'll experience a renewed sense of the role of art – towards the sheer pleasure of materials and colour and texture and creativity and craftsmanship – and away from a kind of pseudo-intellectual celebrity worship. That's not to say that mass-amateurism is necessarily or entirely positive, particularly when it comes to recognising the skill and rewarding the labour of professional artists. But it's something we need to think seriously about, particularly in the wake of the release of Arts Council England's new national strategy Let's Create, from which the word 'art' has been banished.

Simon The act of making brings us closer and it is no surprise to me that when we are left on our own we turn to art to express our hopes, fears, feelings and thoughts. I think in moments like these there is an opportunity to reconsider what is really important: re-think how we live our lives, find new rhythms and make changes.