Artist-Run Multiverse
Neil Taylor
Birmingham, UK

December 2018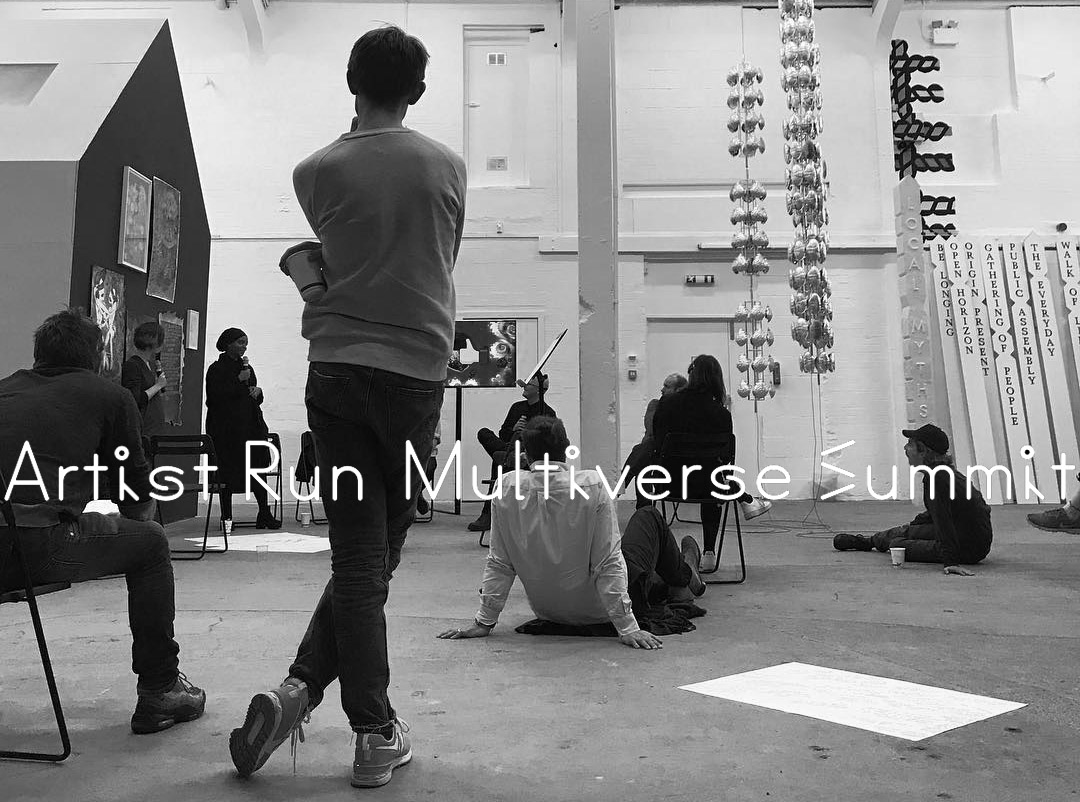 Over a weekend in early November, Eastside Projects in Birmingham, hosted the Artist Run Multiverse Summit, bringing together artists and artist run projects from the UK and beyond to explore and question the role, purpose and possible futures for artist-led initiatives. The weekend was a relaxed exchange of ideas, which included a good nights sleep together in the gallery with artists bedtime stories. The event coincided with their current exhibition, We are the artists, and the artists are many things.

The proceedings began with an introduction by Eastside's co-director Gavin Wade, who explains that in a Multiverse, 'all things happen simultaneously'. We are warned, 'expect to be exhausted after two days', and judging by the list of invited speakers on the programme and the eighteen short presentations by some of the delegates present, this looked highly probable. With the diversity and abundance of artist-run projects gathered together it soon became clear the 'summit' would be taking no prisoners.

To get things moving the opening presentation by Thulani Rachia and Myriam Mouflih, from Glasgow's Transmission Gallery brought pressing concerns to the immediate foreground. At 34 years old, Transmission is one of the longest running artist-run-spaces in the UK, and in 2016 the members voted to 'decolonise the historical structure of their organisation' by electing only people of colour to their 6 member rotating committee. Now they face tough decisions following the sudden withdrawal of long standing funding by Creative Scotland, but their transparency about the need to regroup, eat together and care for each other, 'moving from isolation to empathy', and beyond primarily focusing on the organisation, was to evolve into a recurring theme of the weekend.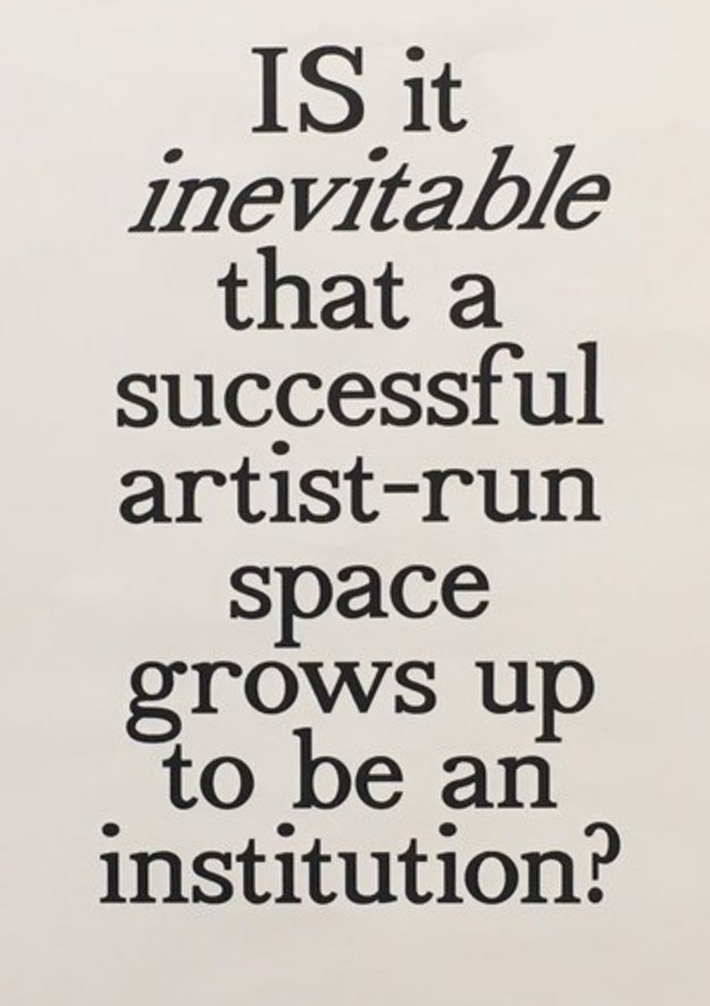 photo: Pallas Projects / 2018
Next Gavin Murphy co-director of Pallas Projects, expanded on the scale of artist-run-initiatives by introducing us to Artist-Run Europe, a Pallas Projects publication, cited as a how-to manual, a history and socio-political critique of the conditions, organisational models and roles of artist-run projects within society. With its essays and directory of spaces, this publication (hopefully just the first edition) is a tour de force, with Murphy and co editor Mark Cullen asking challenging questions about the nature and futures of the 'artist-led'. Projected behind Murphy read the slogan, 'is it inevitable that a successful Artist-Run Space grows up to be an institution?' Within the setting of Eastside Projects, a very poignant question.

Rather apparent and of no particular surprise was that the majority of the attendees and their organisations are largely working within the voluntary sector, making do and getting by. So not surprisingly Gavin Murphy's provocation was later challenged in a breakaway session with the thought 'is precarity necessary to the flourishing of a vibrant artist-led scene and should we push against the institutional model? To contrast this over lunch in a gesture of openness Ruth Claxton co-director of Eastside, one of the NPO's (National Portfolio Organisations) at the event, announced the salary structure at Eastside Projects which served to raise the ever pressing question of how we as a society choose to fund art projects and how we begin to measure value for money within the sector?

A presentation from Gabrielle de la Puente and Zarina Muhammad of The White Pube thickened the waters with a challenging question, 'Does every artist-led scene share the same problems because criticism isn't good enough?' Clearly The White Pube are having none of it, their weekly online critique points to a culture of nepotism and back patting by insular practitioners who they suggest are holding back constructive discourse, and honest, open, peer to peer criticism, this closed circuit restricts even small organisations asking challenging questions like, why they even run their spaces?

This is a question, that Sahra Hersi and Sofia Niazi of Rabbits Road Press in Newham have had to ask themselves, and one that they clearly both have an answer to. Rabbits Road press in an open access Risograph print studio in a tough neighbourhood with a very diverse audience, but despite facing tough practical decisions, like whether to open the studio to the public if they are alone in the building, Hersi and Niazi are resolute, 'Why give someone a fish when you can teach them how to fish?' They asked us to consider, what is the role of small visual arts organisations within the wider arts ecology? but the question might equally have been, what is the responsibility of a funding body in relation to a safe working space when projects take place within a broad social ecology? Should artists repeatedly be expected to place themselves in the front line, becoming in part social worker, learning on the job how to manage drug addicts and potentially violent members of the public 'when our funding never outlined this scenario and we're clearly not trained to deal with these aspects of 'social engagement'. Where are the user manuals?

In contrast to the practical concerns of the UK organisations, we were introduced to artists from the newly created Kunsthal Ghent, initiated by NUCLEO (an organisation providing artist studios and residencies in the region) They presented their ambitious art project housed in a vast cathedral structure in the centre of the city, funded by the Belgian state and the local authority, that can also boast of providing three art schools in a city with a population of under half a million. The Kunsthal Ghent hopes to act as a support structure to smaller satellite arts organisations, rather than riding on the back of them or swallowing them up. Other artist run initiatives from Ghent, including Wouter Cox's Post X in a former Post Office, and Tine Debeolpaep from Onsteking presented across the weekend reiterating the optimism and posing the question, can an artist-run model evolve into an artist-run city? It was an inspired addition by Wade and Claxton and their team at Eastside Projects to invite these artists, as it constellated an alternative reality, that of a broader understanding and respect for the 'artist-led' within wider social context.

This 'Summit' was intended as a starting point for conversation, addressing the environments and ecologies we operate within, and the function of artist-run space, but by the second day the elephant looming large in the room was clearly the uncertainty surrounding the future economy of this sector and the future of our country. With the publication of the consultation documents for the Arts Council England's next 10 year strategy, seemingly not mentioning 'Art' at all, preferring to talk about 'Culture', and with art and creative subjects being literally squeezed out of education maybe its time to stand up and make some noise. As Hersi and Niazi quoted in their presentation, 'It's surely a failure of the state, not to provide arts education to society!' and on NUCLEO's website their tagline is, 'You keep a city alive if you are able to keep artists in your city'.

We are already witnessing artists being priced out of London, but maybe this is actually a net gain for other cities like Birmingham, that are clearly welcoming, and have affordable space and a supportive artist network already in place?

A short presentation by Adi Levy from the Artist Run Alliance (ARA) acted as a galvanising moment, extending the work achieved by Pallas Project's publication by broadening our perspective in regard to the 'artist-led'. As Levy explained the ARA came about 'through a need for artist run initiatives in many parts of the world to connect and interact through a global network. Working within our respective locales and cities many artist run initiatives receive little visibility. As artists we are passionate about what we do and want to involve people in the many-sided and culturally diverse aspects of contemporary art.'

If this new nurturing, sharing, empathetic, international artist led multiverse is going to be of any long term meaningful use, we are going to have to build it fast and build it robustly. In the UK the arts, are under attack, and it will be up to artists to mobilise, hold ground, and stand on their collective creative feet. If artists and their studio practice's are going to survive in any recognisable form into the second half of the century it may be necessary to change course, moving away from the lower paid publically engaged models of practice that have been an economic backbone for the sector in recent decades. Artists will need to pass on their non verbal skills to the future in new ways, and artists we will need networked modes of practice that support each other for longer than the 'three week show'. This might mean the withdrawal from artist-run 'social services' and the assertion of art being relevant by promoting the importance of art in the making of community, culture, policy and infrastructure, but most importantly in this new 'multiversity' artists must remember to be artists.



Artist Run Multiverse Summit took place 9-10 November 2018, Eastside Projects, Birmingham, UK